Meher Baba – Washington DC Highlights
The following are excerpts from "Lord Meher", in connection with Washington DC and the Avatar's tour of the city.
Meher Baba left the Meher Spiritual Center, Myrtle Beach, SC around 10:00 A.M. on July 30, 1956, after bidding farewell to Norina Matchabelli. The car driving Baba and the mandali drove to Wilmington, North Carolina, followed by those accompanying him in buses.
At the airport, Baba sat on a wooden bench and had a small bowl of food provided by Kitty Davy. The group flew from Wilmington at 1:10 P.M., on National Flight 320. Baba was to stop for the day in Washington, D.C., on his way to California.
On board, Eruch Jessiwala brushed out Baba's hair and retied it in a pigtail. Afterwards, Baba told him to give the stray hairs from the brush to Ruth White, sitting across the aisle. The plane circled over the Potomac River and Mount Vernon and arrived 50 minutes early, at 3:45 P.M. The plane was to have stopped for mail in New Bern, North Carolina, and Richmond, Virginia, but both cities radioed the pilot not to stop — something unheard of.
A crew of television cameramen and reporters were to have covered Meher Baba's arrival in the political capital of America, but Baba for his own reasons eluded them. Even the hired limousines had not yet arrived. Bernard Carvalho had even arranged for a police motorcycle escort, to avoid being caught up in traffic. When Baba had heard about all these arrangements in Myrtle Beach, he pointed out to Ivy Duce, "I do not like these press conferences where reporters only look for sensationalism and often distort what is said — nor the publicity, nor TV, nor any part of it!" He finished, asking, "Do you think Jesus would have gone through Washington with a police escort?"
While Baba, the mandali, Elizabeth, Ruth White and Margaret Craske were at Ivy Duce's house, the rest of the group was to go sightseeing — but not to go to a movie. A special bus had been chartered for them, and Baba later told Dana Field, "While you were riding around, I worked [through you]!"
---
Baba was warmly greeted on the lawn of Ivy's home at 3201 Woodland Drive by Andy and Peggy Muir (who had left the Center a day in advance to see that everything was ready) and other Washington Sufis. Baba went into every room of the house, including the kitchen, where he greeted the servants who were preparing a fish dinner for them. Charmian showed him her wedding dress, which he blessed by his touch. Dorothea Foote had laid out her collection of sea shells, from which Baba chose a few to take back to India.
Baba retired to a room to rest, and after dinner had private interviews with about eighteen of his lovers. Nearly 200 people came to take his darshan, including the Education Attaché from the Indian Embassy. The Washington followers of Dr. Khanna, a disciple of Kirpal Singh, saw Baba separately, and received a message from him.
One person from the Indian Embassy who did not show up was an old contact of Baba's named Mohan Shahane. As a boy, Mohan had lived at Meherabad in the 1920s and had composed a Marathi arti for him. When Mohan Shahane left to further his education, Baba had turned to Padri and said, "He will not see me again for 700 years!" Although Shahane had been informed of Baba's arrival in the city, he did not come to see him.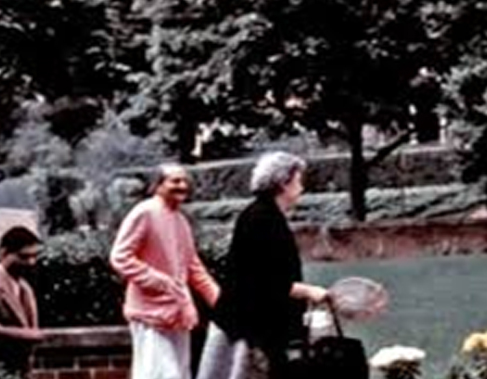 ---
A renowned Washington photographer named Harold Chase Davis had been called by Ivy, and he took several portraits of Baba, a few of Baba in front of the fireplace, and one of Baba with the mandali. Baba was also interviewed by reporters from the News, the Evening Star and the Washington Post. The reporter from the Star, Charles Puffenbarger, asked what was the reason for his visit. Baba smiled and gestured: "I have been repeatedly telling that God is the only reality. God is in everyone. Everyone should love God. Your love for God should be so much that you see Him in each and all."
About his silence, Baba said: "God has been everlastingly working in silence, unobserved, unheard, except by those who experience His Infinite Silence. If my silence cannot speak, of what avail would be speeches made by the tongue?" To George Clifford, the reporter from the News, Baba stated: "Selfishness is the primary cause of wars. It must be replaced by selflessness to have world peace."
---
Historical facts that took place on July 30, 1956, when Meher Baba was in Washington DC
The US president was Dwight D. Eisenhower (Republican).
Famous people born on this day include Delta Burke and Anita Hill.
In UK Whatever Will Be Will Be (Que Sera Sera) by Doris Day was in the top 5 hits.
Canyon River, directed by Harmon Jones, was one of the most viewed movies released in 1956 while Imperial Woman by Pearl S. Buck was one of the best-selling books.
On TV people were watching Man Against Crime.
US motto In God We Trust authorized "In God We Trust" is established as the U.S. national motto.
TIME Magazine released on July 30th, 1956 had featured Jawaharlal Nehru on the cover.
---
Meher Baba Websites