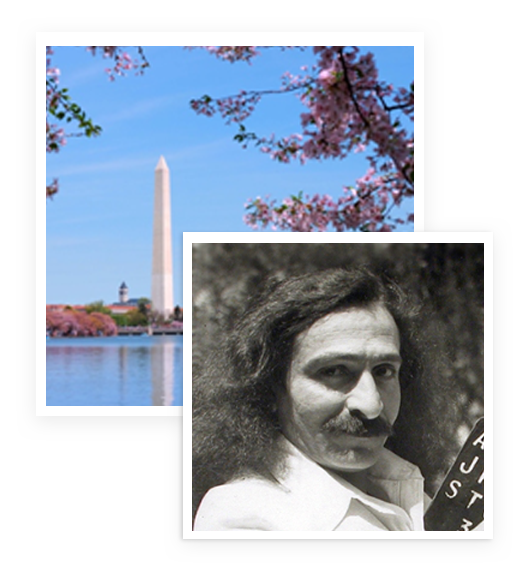 Meher Baba Washington DC came to life in the early 1970's when two Meher Baba followers were asked by Kitty Davy (an early member of Meher Baba's western mandali) wished that there be a presence for Meher Baba in Washington DC, USA. The interest of individuals living in the Greater Washington DC area grew by word-of-mouth and were motivated to meet and discuss Meher Baba's life and works. Ever since regular gatherings are held where Meher Baba followers assemble and exchange their spiritual experiences and connections with Meher Baba.
Out of the interests of individuals residing in the Greater Washington DC area the Washington DC presence for Meher Baba grew and meetings are held on special Meher Baba events. Members who attend these meetings come from diverse backgrounds who align with Meher Baba's teachings.
Attendees are actively involved in the service of humanity and in promoting spiritual awareness following the principles of Meher Baba that all religions are equal. Individuals meet regularly during scheduled gatherings in the Greater Washington DC, promoting Meher Baba's life and works.
Don't Worry Be Happy ― Meher Baba

No amount of prayer or meditation can do what helping others can do. ― Meher Baba

The book that I shall make people read is the book of the heart, which holds the key to the mystery of life ― Meher Baba

Love God and find him within - the only treasure worth finding. ― Meher Baba

Mastery in Servitude ― Meher Baba

...What will the present chaos lead to? How will it all end? It can only end in one way. Mankind will be sick of it all.... ― Meher Baba

True love is no game of the faint-hearted and the weak. It is born of strength and understanding.
― Meher Baba

&nbsp

&nbsp

&nbsp